David Roberts Supports Symposia Bookstore During the Lockdown! 
The Symposia Bookstore and Community Center in Hoboken, located on its busy main drag, Washington Street, is a public benefit non-profit corporation. Local residents know it as a place to browse used books or to gather for book readings, open mic events, puppet shows and conversation series.
With the stay-at-home order in place during this 2020 pandemic, Symposia, like other businesses, has been closed to the public. However, thanks to the store's landlord, David Roberts, patrons of Symposia can feel optimistic.
The rent, already much lower than the market rate, has not been raised by the former mayor and his family since the store moved on Washington St. over a decade ago.
"Without their generous support, we would not have been able to stay in business in Hoboken and on Washington Street," says Symposia founder Cornel Rusu of Roberts and his family. "David is doing that because he really likes to have an active community-oriented bookstore in our town. For him, this is another way of fostering community and supporting arts and education in Hoboken."
"Now with coronavirus, he has continued to work with us," says Symposia manager Carmen Rusu. "He wants us to survive this crisis. There is no plan to close Symposia."
The store is organized and operated exclusively for educational and charitable purposes. Symposia is grateful to all those who have donated books, organized events, and attended events over the years.
Books can still be donated during this health crisis by simply dropping them off. See the Symposia website for more information.
David Roberts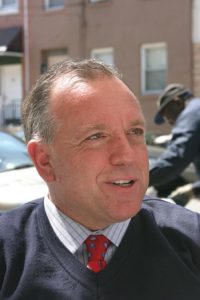 "There are other ways that you could support your community without being an elected official," said former Hoboken Mayor David Roberts. "I'm learning about those ways and doing them now, and this web launch is the first step."