By

LucianMih
Posted in Newsletters
On December 4, 2019
Comments Off

on Symposia Community Events – Dec. 2019
Symposia Community Events – Dec. 2019
510 Washington St, Hoboken, NJ 07030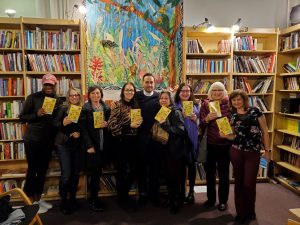 Looking for a diverse and stimulating place to volunteer your time? Does the idea of community-building appeal to you? Look no further. At Symposia we have opportunities to fit a wide array of interests. Whether you are a people person who enjoys interacting with the community, a computer technician who welcomes a challenge or someone wanting to tackle poverty issues and international causes, you can carve your altruistic niche here. Our volunteers set their own pace and plan their own schedules. This flexibility affords you a way to serve the community without major changes to your current lifestyle. All you have to do is stop in and tell us what you enjoy doing most. If it's not already in place, we'll try to find a way to make it happen.
Acoustic Folk Circle – Sunday Dec. 8th from 3 to 5 pm
Welcome back to our Acoustic Folk Circle!
Bring a guitar, voice, percussion harmonica BYOB if you want a beer or wine just bring some also!!! Each of us will take a turn to sing a few songs: originals, traditional or cover song, you choose solo or together. In between a little break to socialize. Enjoy a nonjudgmental friendly musical atmosphere.
PS:A $5 suggested donation to our bookstore host appreciated!
Guitar Circle – Thursdays at 8 pm
Come jam with local guitar players in a casual, friendly atmosphere. Share your favorite songs and learn new ones. All playing levels and styles are welcome!
To register or for more info, contact Carlos at chaase@chdesignsolutions.com
 Free Yoga Class – open level –  Tuesday Dec. 3rd, 10th and 17th at 7 pm 
While you're busy navigating "the most wonderful time of the year," balancing work with shopping, gifting, festivities and more, remember that the holiday season is not only a time to rejoice, but also to reflect… Consider what you may need most and be sure to carve out time for your wellness practices. Come join us for Yoga at Symposia that will help you maintain balance (and sanity). Namaste!
Suggested donation: $8  Registration required.
Certified Yoga Instructor Carmen Rusu
For more information, or to register, contact Carmen:  201-805-1739 or  carpathian_air@yahoo.com
Musical Open Mic Night – Thursday, December 12th at 7.30 pm
Join us for a night of shared musical talent. Sign up and play some tunes, or just come by and cheer us on!
BYOB (Bring your own bottle, banjo, or balalaika) with some munchies provided. Feel free to bring your own snacks to share.
Sign up starts at 7:30pm. Everyone gets to perform at least two songs, and original songs are encouraged. Test out your new material or play some cool cover songs. This is mostly an acoustic setup, although a small amp can be made available.
Refreshments will be served.
Like our Facebook Page (https://www.facebook.com/SymposiaOpenMic/) or send an email to chaase@chdesignsolutions.com for updates and the monthly schedule.
For more information, contact Carlos at chaase@chdesignsolutions.com
Private Guitar Lessons with Carlos
Fee: $50/hr
All levels, ages, and musical styles, from classical to country and rock/pop. Can travel within Hoboken or provide a place for lessons.
Contact Carlos Haase at  chdesignsolutions.com. Se habla español.
COMING TO SYMPOSIA in 2020: Conversation Series – Stop by and partake in an open discussion, a chance to talk with fellow community members on various topics.
Facilitated by Rafi Cordova
First conversation: January 29th 2020 at 7 pm
Puppetonia Puppet Shows at Symposia Bookstore
Since its inception, Puppetonia has taught children so much more than just their ABC's and 123′s. The music and puppet shows incorporate important social skills, early academics, thinking skills, motor skills, and self-expression.
The music is fun and upbeat, and the children are encouraged to move to the rhythm, follow verbal instructions, practice sequential movements, and have a great time. And there are bubbles galore!
 PUPPET SHOWS: Mon, Wed, Fri: 10 and 11 am
BABY YOGA (6 weeks to crawling): Tuesday at 1.30 pm
TODDLER YOGA (crawlers to 24 months) Thursdays at 12 pm
SPANISH WITH PUPPETONIA: Tuesdays and Thursdays at 10 and 11 am