By

Carmen Rusu
Posted in Newsletters
On August 5, 2023
Comments Off

on SYMPOSIA Community Bookstore Events – August 2023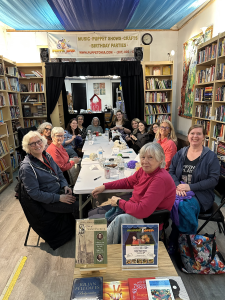 SYMPOSIA Community Bookstore Events – August 2023 
510 Washington St, Hoboken NJ 
201-805-1739 
Open Mic Night – Tuesday, Aug. 8th 7:30 to 10 pm   
  "Sometimes love gone wrong is actually life gone right." – Unknown

Join us for the AUGUST edition of Open Mic Night! This month, our (optional) theme is "Love Gone Wrong."

This inclusive, encouraging environment is the perfect place to practice what you've been working on at home. Original material and covers are welcome (songs, poems, readings, comedy). This event is open to all ages, therefore we ask that all material be clean and family-friendly.

*Suggested donation $5/attendee to support Symposia (non-profit bookstore)

*Some simple snacks will be provided but feel free to BYO drinks/snacks. 
Facebook link:  https://fb.me/e/1hB0drLBW 
La Leche – New Moms Support Group– Friday, Aug 25th 10 am to 12 pm.  
Come join us for this support group where you can share and learn from other moms. 
La Leche league is an international volunteer run support group open to all families interested in lactating or providing human milk to their babies.

La Leche League was founded over 60 years ago when the founders (a small group of mothers) found that families were most successful when supported by their peers and it has continued with the premises of providing non bias support to local families.  
For more info contact Tiffany at lllofjc@gmail.com 
NEW! "Symposi-HA!" –  Saturday Aug 26th at 8 pm 
Come see our bookstore's first ever live Stand-Up Comedy Show! 
The show is produced by Hoboken comedian Matt Pena and will feature comedians from all over New Jersey and New York. Tickets are $15 and all proceeds will go towards supporting the store as well as supporting the performers!  
Please follow "Symposiha" on Instagram for all news and updates and grab your tickets on eventbrite.com by searching "Symposi-Ha".  
Don't forget to bring your own beverages and snacks to enjoy at the show!  
Fee: $15 
 
Our family at Symposia wishes you a beautiful summer and hopes that everyone is staying safe and well read!  
We are looking for VOLUNTEERS to shelf books and/or help customers. 
Flexible hours, great environment, free books! 
Other ways to help Symposia: 
DONATE YOUR BOOKS!  Symposia stays in business by selling donated books online. 
 Donate your used shipping supplies: In an effort to stay environmentally friendly, Symposia Bookstore welcomes donations of used clean shipping materials like small bubble wrap and new bubble mailers/envelopes. 
 BUY FROM SYMPOSIA!  Need new reading material? Peruse Symposia's inventory with over 2,500 titles on Amazon at 
https://www.amazon.com/s?me=A2K6ZNUTSJAUFX&marketplaceID=ATVPDKIKX0D 
Any donation will help make an impact as this is a nonprofit organization that serves as the only used-bookstore in the area and community center for locals. Thank you so much in advance for your contribution to this cause that means so much to our community. It is our pleasure curating the best books for our customers thanks to your donations.